GORDON BAHARY, SINGER-SONGWRITER
Inspiration is an elusive thing. It comes without warning on its own timetable, ready to be harnessed into something greater: art. For singer, songwriter, multi-instrumentalist and producer Gordon Bahary, inspiration came early in life, in his teens when he befriended and began collaborating with the legendary Stevie Wonder. It struck Bahary when he worked with the equally legendary Herbie Hancock on some of the jazz giant's transformational recordings and yet again in the early 1980s when, under the assumed name of Twilight 22, Bahary soared into the R&B top 10 with the multi-million-selling single "Electric Kingdom."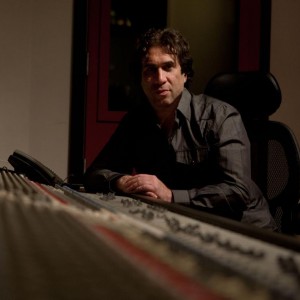 Now inspiration has arrived again in a big way, as Gordon Bahary releases his long-awaited, multifaceted debut album, Unbreakable, to be released July 17 on Bahary's own Lasting Treasure label, distributed by BDG (which is distributed by RED Distribution, LLC, a division of SONY Music Entertainment), preceded by the August 28th release of the single "Angel," a stunning ballad of loss and longing. A collection of poignant and expressive songs, Unbreakable is an intimate, elegant and dynamic work that draws on such indelible human experiences as love and hurt, friendship, faith and trust, compassion, truth, determination and the bonds we all share.
"It's about resilience and getting yourself back on your feet after the blows that life throws you," says Bahary of Unbreakable. "And it's also about spirituality, music and love wherever you can conjure it up—that's the medicine to help along that resilience."
A potpourri that seamlessly draws from the well of classic R&B and merges elements of pop and jazz, classical, world music and adult contemporary, Unbreakable was largely written "in a cocoon of alone time, day into the night," recorded in Bahary's home studio and at New York's Dubway Studios. Bahary wrote, sang, produced, engineered and mixed the music and played most of the instruments, with assistance from a crew of virtuoso friends: guitarist Peter Calo (Carly Simon, Hall and Oates), trumpeter Jim Hynes (Sting, Paul Simon), soprano saxophonist Andy Snitzer (Paul Simon, Aretha Franklin), violinist/violist Maxim Moston (Josh Groban, Antony and the Johnsons), cellist Anja Wood (Barbra Streisand, Michael Bublé) and tenor and alto saxophonist Mark Fineberg (Donna Summer, Lou Rawls).
Bahary created what he describes as "a cozy atmosphere" in the studios, in order to find his way deep into the music without distraction. The resulting recording is one that traverses the emotional spectrum, a range of expressions from bold and ambitious to vulnerable and fragile finding their way into the grooves.
Unbreakable leads off with "Mediterranean Woman," a song that, like all of the tracks on the album, holds great personal significance to Bahary, whose roots are in that part of the world. "It was influenced by my family and the Middle East and the passion and soul of the Mediterranean," he says. The title track is another that is close to his heart. Bringing to mind a classic Santana-esque Latin-jazz-rock vibe, it's essentially about "a utopian relationship," says the artist, but it also touches upon Bahary's strong spirituality: "Give my thanks to Him above for sending me this precious love," Bahary sings, a sentiment that turns up in other tracks as well.
That honesty and openness is pervasive throughout Unbreakable, giving the listener an insight into the heart and mind of Gordon Bahary. The majestic, orchestral ballad "A Lady," one of the album's standout tracks, was written, he says, to restore respect and dignity to a word that once signified class and has all but disappeared in a world where women are too often demeaned. "There is a lot of degradation in songs today, and the genres that are selling the most portray that," Bahary says. "I wanted to remind myself and others of what I grew up, when there was charm in music. I miss that. I've received Facebook posts from teenagers saying, 'It's about time I hear some music that is saying this.'"
In the video Bahary has created for "A Lady," that sentiment, that "charm factor," as he calls it, is embellished upon. "You know how we all feel when we see an old couple walking down the street holding hands and he opens the door for her?" says Bahary. "You go, 'Awww.' That's love. Caring for the welfare of another is love."
Another track that articulates a potent message is "My Last Day on Earth," which, from its title, may be expected to portray a doomsday scenario but in fact reveals itself to be saying just the opposite. In the song, Bahary lists a litany of actions that we all tend to put off for some nebulous future—telling the people closest to us that we love them and spending more time with them, striking up a conversation with those folks we see but ignore every day, appreciating the natural world around us—and he suggests that today is as good a time as any to change the way we walk through life. "It says that every day should be my last day on earth and I purposely did that to shake people up a bit," Bahary says. "I think about it a lot."
In "The Ocean of Darkness," Bahary tackles hate and jealousy from another angle, longing for the day when such negatives will be "like the dinosaur…like statues in museums."
Not all of Unbreakable is so weighty, however. Much of the album, sung by Bahary in a voice that's commanding and crystalline, a voice that has earned him a devoted following over the decades, is given over to songs of pure love and heartrending loss, selfless devotion and the value of respect. The piano-based "Angel" is, says Bahary, "dramatic, a heartbreak song, the other side of 'A Lady,'" while "Father and Son" explores that deep-rooted bond in lines such as "And now I can see that there really is no master plan to transform a boy into a man, except for the best that we can."
In "Breakaway (Bossa Nova)," Bahary uses the sounds of Brazil to reminisce about that special land, where "people wear a million smiles upon their face."
"A Prayer" is just that, Bahary thanking the creator and asking for His wisdom and compassion. And the jazzy "` Boy" is enlivening, just the kind of encouraging boost we can all use in today's volatile world–with a vocal performance reminiscent of such greats as Kurt Elling and Al Jarreau, Bahary hits this swinging tune out of the park with soul and panache.
Unbreakable is a work that's imbued with the artist's values, values that Gordon Bahary has carried with him into his music since childhood. Growing up on Long Island, his ethnic background was primarily Persian, with both Jews and Christians in his immediate family. His family instilled in him a strong work ethic—the young Gordon built his own radio station at home and became quite well known, first within a radius of hundreds of miles and ultimately around the world, for his daring programming. The illegal pirate station even caught the attention of the FCC, which tried, but could not find, the boy behind the popular station—deciding to quit while he was ahead, Gordon shut down the enterprise, but not before realizing that he could make an impact by following his creative whims.
Bahary's parents also gave him a powerful sense of right and wrong: Although his parents were born in America, and instilled in him a deep devotion to his country and a respect for its hard-earned freedoms, , they held on to much of the Persian culture handed down to them. Bahary, although he came up in a time of pop culture saturation and turbulent changes in America, was born into what he calls a "multi-dimensional, multi-ethnic religious environment. It was a deeper, passionate, please-come-into-my-home, everything-I-have-is-yours way of life. That plays a role in who I am."
Music was always present. Gordon's father "sang Arabic and Persian melodies so that's in me too. And in Islamic art you repeat something many times until it's perfected." By the time he was 10, Bahary was writing songs, helped to an incalculable degree by his next door neighbor, the great singer-songwriter Harry Chapin, of "Taxi" fame. "Harry used to come over to my house when I was 14 and revamp my songs for me," says Bahary. "He changed my life more than any human being other than my parents." As a nod to Chapin's influence, Bahary is donating a portion of the proceeds of Unbreakable to World Hunger Year, the anti-hunger organization co-founded by Chapin and with which Bahary is now affiliated. "I want to continue what Harry started," he says.
But perhaps nothing in Bahary's life and career was as fortuitous as his audacious decision to pursue the attention of one of his musical idols, Stevie Wonder. Although he was only 15 at the time, Bahary phoned the Motown Records offices in Los Angeles relentlessly, to the point, he says, that the receptionists there told Wonder he was "terrorizing" them. Eventually the ambitious Long Island kid reached the man himself. What is it exactly that you want?!" Stevie Wonder asked him, and the young Gordon told him in no uncertain terms that he wanted to produce him. Rather than call the kid crazy and hang up, Wonder let him know that he had that aspect covered and spoke to Bahary for more than an hour, listening to his music, giving advice and listening to the boy's dreams and hopes. The following week, at Wonder's request, Gordon Bahary was on a plane to L.A. to meet his hero.
Wonder gave Bahary the once-in-a-lifetime opportunity to sit in on sessions for his landmark album Songs in the Key of Life and, over the subsequent years, as Bahary became more proficient as a musician, he realized his dream of working with Wonder. Having become enamored of the developing synthesizer technology of the 1970s, and then becoming a pioneer of the technology himself. Bahary taught Wonder how to use the new electronic keyboards, for which he received a credit on Wonder's album Journey Through the Secret Life of Plants. "Technology was being created in our midst and that was exciting," says Bahary. "That indulgence helped creativity."
Among those who became aware of Bahary's acumen with the new synths was jazz genius Herbie Hancock, who had himself been dabbling in electronics. In the late '70s, Hancock called upon Bahary to assist with his music. His credit appears on Hancock's album Feets Don't Fail Me Now. "My harps and violins on Herbie Hancock's records of that time are all synthesized, when no one else was doing it," says Bahary. "That enabled me to jam with great musicians like Alphonse, Bennie Maupin, Ron Carter and Herbie—I didn't know at 18 how lucky I was. I was around the greatest musicians of our time and I appreciated it but not fully. I thought everyone played like this!"
Bahary worked with other great artists, from jazz keyboardist Ramsey Lewis to the iconic filmmaker Francis Ford Coppola, who invited Bahary to his Zoetrope Studios in California to work on synthesizer sounds. By the early '80s, although "the guys that I worked with had a huge influence on me," Bahary was ready to start cutting his own music. He signed with Vanguard Records, best known for its folk, jazz and classical output. That's not what Bahary had in mind though—he had created a new recording called "Electric Kingdom" that was based on the nascent rap music of the day. Because so few non-African Americans were involved with hip-hop at the time, the label insisted that Bahary come up with a new name for himself.
"They were trying to hide that I was white," says Bahary. "I said, 'Call it whatever you want. Call me Twilight Zone for all I care.' Then the A&R guy said, 'What about Catch 22?' I said, 'Call it Twilight 22,' and that was it. We sold seven million copies. I was 23."
The "Electric Kingdom" single peaked at number 7 on the Billboard R&B chart and also made the trade magazine's pop chart. Two subsequent singles, "Siberian Nights" and "Street Love," also reached the R&B chart. Bahary's recordings were later sampled by hip-hop artists, including Tag Team on their 1993 number 1 hit "Whoomp! There it Is!" but Bahary's own recording career was not progressing. He concentrated instead on producing other artists, among them the child television star Raven-Symoné of The Cosby Show and That's So Raven.
With the exception of the release of his album Genesis: The Creation of the Earth, an all-instrumental work, and some work with animation and video games, Bahary took a sabbatical in the '90s. He entered the corporate world of music, heading up his own label, but realized in recent years that he missed making music. Unbreakable is the first fruit of his return to his art, and Bahary recently played his first-ever live gigs, in New York, with plans for more to come.
"I've built an organic audience, created virally, based on the quality and the sincerity of the music," he says, and that quality and sincerity shine through on Unbreakable, the culmination of a lifetime in music and, at the same time, a new beginning.
Now, at last, Gordon Bahary is back, making the music he was born to make. Unbreakable is the culmination of a lifetime of creative impulses coming to the fore in one glorious, unforgettable collection of songs.
by Jeff Tamarkin
Associate Editor of JazzTimes Magazine
Jeff Tamarkin is an American editor, author and historian specializing in music and popular culture. In the course of his work Tamarkin has interviewed hundreds of musicians and celebrities, including Roy Orbison, Brian Wilson, Jerry Garcia, Yoko Ono, B.B. King, Carlos Santana, Dave Brubeck, Ricky Nelson, the Ramones, Herbie Hancock, Ray Davies, Elvis Costello, Dexter Gordon, Lou Reed, Peter Tosh, Wynton Marsalis, Frank Zappa, Ringo Starr, Keith Jarrett, Solomon Burke, Youssou N'Dour, Bela Fleck and the Flecktones, Dionne Warwick, Chick Corea, the Monkees, Bobby McFerrin, Pat Metheny, Little Richard, Annie Lennox, String Cheese Incident, Stanley Jordan, Arlo Guthrie, and Nancy Sinatra.
Lasting Treasure Media Corp.
Distributed by BDG/RED Distribution, LLC
(a division of SONY Music Entertainment)